Disinfectant cleaner with active oxygen
Aligned to the service sector, in a "COVID FREE" framework and in response to the demand for specific cleaners for our synthetic fabrics, which, due to their continuous nature, are the most suitable for sanitising and disinfecting, we present OXICUAT.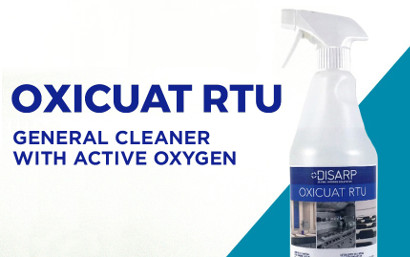 -It eliminates dirt and bad smells.
-Contains 0.8% hydrogen peroxide.
OXICUAT is a cleaner based on hydrogen peroxide, alcohols and quaternary ammonium compounds in specific solutions to provide the best natural disinfection, minimising the use of toxic substances thanks to active oxygen.
Its neutral PH and high concentration of non-ionic surfactants remove dirt without the need for aggressive scrubbing, thus increasing the life of surfaces despite periodic washing.
The essential oils in its composition and the ammonium salts give OXICUAT a high sanitising power and eliminate bad smells.
ALONSO MERCADER recommends the use of polyurethanes or mixtures such as MOVER, TRX or ACUA PLUS, to avoid hardening due to the loss of plasticisers in conventional PVC, after continuous washing.
Unlike our competitors who customise cleaners, we inform you that OXICUAT can be found in large supermarkets and drugstores or we can deliver it directly to you.